Today my wife and I went out to the lower meadow to pick blackberries with thorns. About 20 minutes later, we made a fresh blackberry cobbler, and I wrote this poem about the experience:
Blackberries Have Thorns. So What? Revolutionary ImproVerse Rhyming Haiku
It reminds me of the time I visited a rose garden in Freiburg, in the southwest corner of Germany, just south of the Black Forest. The sign in the rosegarden said, loosely translated, "Don't be sad that the roses have thorns. Instead, be much more happy that the thorns have roses!" Instead of complaining about the heat and humidity after a late afternoon Georgia summer rain, or the thorns that scratched my arms and hands, I'm just going to enjoy the incredible cooking prowress of my wife, AND the fantastic abundance of FREE wild fruit on my property.
What some may call nuisance bushes, weeds, and an annoyance, I call a beautiful treat and a blessing.
I would write more about it, BUT my wife insists it is one of the best she's ever made … so I'm going to go get some! Her impression?
UPDATE: Yes it was good. REALLY really good! She made it with half sugar, half Stevia. I'm honestly NOT a big fan of stevia, but the cobbler was never-the-less AMAZING!! Especially ala mode!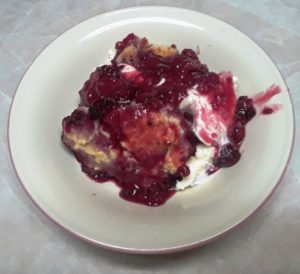 Facebook Comments